Bookings for 2023-2024 now
Available
Log Cabin Holidays in Lapland
Private Lapland holiday in a log cabin under the Northern Lights.
Play a game to find out which destination in Lapland is best for you!
Private Lapland Holiday crafted for you
We organise private holidays to Lapland for families and small groups who are interested in authentic experiences in the nature and to see the real magic of Lapland.
Our main tour is called Winter Week Experience. It is a 6-day long (including travel days) private holiday that includes accommodation in an authentic log cabin surrounded by beautiful nature and activities guided safely by a professional local wilderness guide. 
All of our activities are private for you. This way you will get so much more out of the experience. On a normal tour you share your experiences with other guests. Many times this means waiting in lines and tight schedules. We guarantee you that the value on this private holiday is better.
Everything below is included in the Winter week experience tour. All the activities are private so there will not be other participants except you and your party.
The activities mentioned below are all low-level activities: easily approachable and suited for both the young and the old. Some require physical effort, but not too much. All the activities include transportations, lunch and a professional wilderness guide.
Winter Week Experience - 6 Days
13 km Private husky safari with two persons in one sled
Night of the Northern Lights
Campfire evening with the Northern lights and pancakes
Snowshoeing on the magical Pallas fells in the National Park with lunch prepared on open fire
Accommodation for 3 nights in a log cabin with a sauna and a fireplace
Visit a local reindeer farm and learn about the lives of the reindeer and the herders.
Luxury Ice fishing on a frozen lake with lunch included
A private tour is about you and no one else. On a normal tour there are usually a lot of people sharing the experience. This means that there cannot be changes in the schedules or in the program because the guide has to take so many interests into consideration. On a private tour this is not a problem. Its between you and your guide.
Due to the Coronavirus pandemic it is also safer to choose a private tour instead of a group package. Read more about our safety measures due to the Coronavirus.
On a private tour its very easy for us to make changes to our schedule if needed. For example if we have scheduled a Northern Lights tour on Friday and the weather forecast says it is snowing then we can do it on another night instead. On a regular tour this is not usually possible.

If you are travelling with small children it can be very challenging to get them moving on time and do certain stuff. With a small private group we can modify the activities so that they are better suited for your children.
At our business, we are firmly committed to promoting and advocating for sustainable travel. It is a key value that we hold in high regard and we strive to achieve it in every aspect of our operations. We believe that reducing the carbon footprint and the environmental impact of our services is crucial for preserving the planet's natural resources and ecosystems. That is why we prioritize small private groups, as it not only adds extra value for our esteemed guests, but also helps us reduce the impact on the climate and the environment. On that note, we are proud to say that our efforts in promoting sustainable travel have been recognized with a Good Travel Seal and Sustainable Travel Finland Sertificate. This acknowledgment signifies that we adhere to the best practices and principles of sustainable travel, and we will continue to take all necessary measures to ensure that we maintain these high standards.
Is this tour for you?
Answer 5 questions to find out if this tour is for you
Stories
Visiting Lapland is on many people's bucket lists – and it's clear why! Lapland, located in the northern regions of Finland on the lip of
Read More »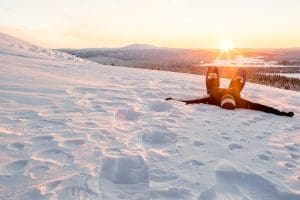 Lapland travel tips
Have you been dreaming of a holiday in Lapland? You are not alone! For many people all over the world, Lapland is one of the
Read More »
Stories
If you adore beautiful scenery and true peace and quiet, you will love Lapland. When you book a holiday in Lapland with us at Wildmaker,
Read More »
True wilderness experience away from madding crowd with a guide who really knows his stuff
We wanted to experience the beauty of wild Finland like explorers, on our own as far as possible and definitely no tour groups. 
Our guide Valtteri found us a chalet hut owned by a local in the middle of the woods to stay in with a roaring log fire out in the sticks. He took us on a whiteout hill climb in snow shoes safely above the tree line to the summit and safely back down again. We were the only 3 people on the slopes. He pointed out animal tracks, birds and the silhouettes of reindeer that we would otherwise have missed. 
He took us ice fishing on a frozen lake, dragging our equipment on a sledge with reindeer hide through virgin forest snow, made a fire on the lake and let us dig our own ice holes and fish, explaining the best techniques, whilst bringing us hot coffee. He regaled us with his knowledge of nature, animals and stars. 
He cooked for us in a Finnish Kota, brought reindeer soup he had made himself at home, and took us off piste on a fast paced snow mobile trek to the top of a mountain with magical views and husky sledging, ensuring that we met the dogs, whom he knew personally and by name. 
On New Year's Eve he took us to meet two Finnish couples and we celebrated the New Year eating pancakes round a roaring fire with locals watching the northern lights. And the day before we left he invited us to his home to meet his wife and young son, he cooked salmon for us in his own smoker – a lovely, personal touch. 
Nothing was too much trouble and we enjoyed both his engaging warm personality and professional expertise. We had an unforgettable taste of real Finland, not the typical tourist chocolate box experience, but a wild natural time with in a stunning landscape that can be ruthless if you don't have an experienced guide like Valtteri on board who knows his onions and can push the envelope in this environment yet ensure you are totally safe. We enjoyed it so much we shall be returning, in summer this time for whitewater rafting and canoeing and there is only one person in Muonio for us!
-Coco Highton
Lapland expectations exceeded thanks to Wildmaker Lapland
After having had compared numerous options for our family trip we decided to go with Wildmaker Lapland.
Right from the beginning the communication was excellent and our questions and wishes, also regarding nutrition, had been fully considered.
The whole experience is very intimate as you are sharing the time with your private guide. Starting right away with a warm welcome your host picks up at the airport.
All of transport is arranged for you, warm clothes provided, and supermarkets can be visited every day.
A highlight is indeed your private cottage. The fireplace creates a cosy atmosphere, and the kitchen provides all basic equipment to cook yourself some dinner.
The private sauna gets hot enough to almost melt you away briefly before you may roll in the snowy landscape to cool down.
The cottage is located truly remote. Crowded hot spots are distant, so you can fully relax and disconnect from the elsewise for some people too vibrant touristy hot spots like Levi – despite being still in easy reach by car.
The views out of the cottage down the valley to the mountains (you are going to hike during your trip) is unique and makes every snowy morning a special experience. We also had a private hiking trail right behind the cottage.
Every ingredient of the tour, the ice fishing, reindeer tour, northern light experience (hot drinks and delicious pan cakes), hiking experience (amazing views) and the huskie trip had been excellent.
All the experiences are private, so adjusted to your needs and pace.
This made especially the huskie tour unique, as you had been involved, voluntarily, to get the dogs ready and feed them afterwards. Also, the trail itself is among routes you will not see regular tourist agencies with big groups.
Our expectations had been way exceeded and we can fully recommend this experience to anyone heading to Lapland winter wonderland.
Thanks a lot Valterri!
-Martin
Amazing week in Lapland made unforgettable by Valtteri. His knowledge and skill allowed us to experience this magnificent landscape close up and not to feel like a tourist. Knowing he lives with his young wife and son here all year round means every penny we spent was going to support them and the local community.
– Kelvin J.
We had a wonderful winter vacation in a very cozy cottage. The program was great, diverse and it was always catered to our individual wishes.

Valtteri is very professional, competent and supported us always with all our requests.

The week was perfect to recover from the day-to-day and big city stress.

Many thanks Valtteri and best regards
-Thomas
Wonderful Winter Holiday in Finland with Wildmaker Lapland
Our family (grandmother, two young men and a seven year old little boy) had wonderful six days in a very well equipped, very cozy and warm cabin, surrounded by snow and forest.
Valtteri managed our experience with a lot of love, professionalism and personal commitment. He has really made every activity a very special experience for us.
Ice fishing, the husky tour, the Northern Lights evening, a trip to the reindeer farm, the snowshoe hike… Every activity of the program was tailored specifically to our needs and always had been a lot of fun! And it's almost unbelievable, but true, when I say: Every event was really even more beautiful than we could have imagined!
A very experienced, dedicated tour guide, impressive, wonderful experiences in nature, a journey with delicious food and drinks next to the fire and all in an always relaxed, wonderfully calm, wintry atmosphere! It really doesn`t get any better!!! Valtteri, thank you very much!!!
-Sylvia
Because it is a private tour there is only a very limited number of spots. Make sure to book fast to reserve your holiday.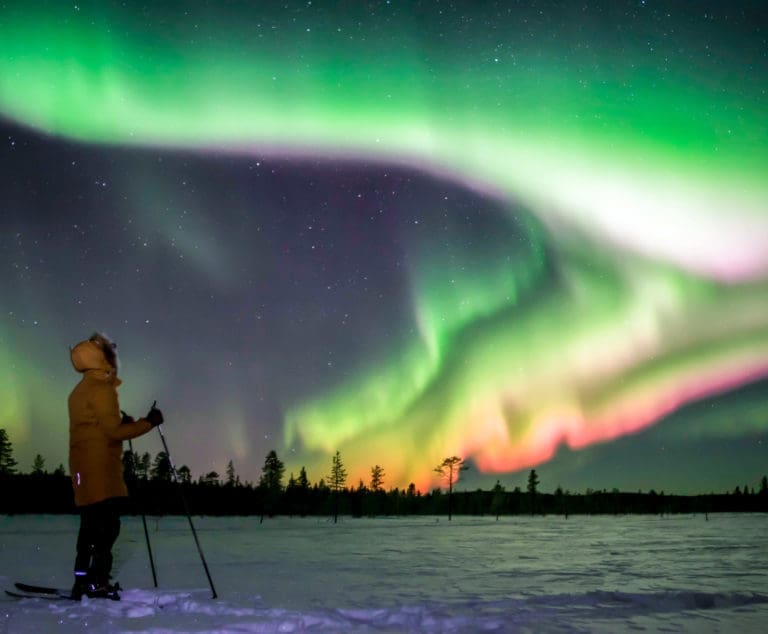 It happened many years ago, I was skiing in a forest in Lapland. There was a lot of new snow and the Northern lights were dancing on top of me. It was completely silent. You could not here a single sound. No engines, no people, no birds. I had never experienced complete silence and I don´t think many people have. You always hear something. It was such a beautiful moment and a strong feeling for me just being there surrounded by the nature. That moment started my journey away from the hectic, noisy city life towards a more peaceful and quiet life in Lapland.
My name is Valtteri Immonen. I live in Muonio, Lapland. I am originally from the south of Finland very close to the capital Helsinki. During the summers of my childhood I always spent the summer months in our summer cottage which is surrounded by nature in the countryside. I always went for adventures in the forests, swimming and fishing on the lake all day long. I remember it being so peaceful and happy life. I was already building my relationship with the nature.
As a young man I travelled around the world. Everywhere. I lived for a year in Brazil and Malaysia and I was always travelling. Today I am happy and very grateful for my years travelling abroad. They shaped me as a person and taught me about differencies in people and cultures that I can make use of in my work today.
I had never really travelled in my own country and I had never been to Lapland and it was the place I really wanted to see. It sounded so different from the cities in the south. I found this one job ad from the internet. Before I was even called for the interview I took my bike and booked a train to Kemi from where it took a few days and about 350km to cycle to Muonio where the job was. I called the manager from the
lobby and asked if they would interview me. And I got the job!
Then, one day I was skiing in the forest, and I experienced the complete silence. Eventhough the situation was very different, the feeling I had reminded me so much of my childhood in our summer cottage. This transformative experience is something I want to offer my guests as well. Many of them have a busy life in big cities and I wish to show them the peacefulness of the nature that can have effects that can change lives completely to the better as it did for me.